About the Author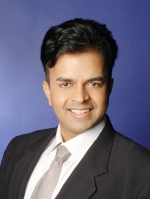 Manoj Thulasidas was born in the picturesque hill resort of Munnar in south India in 1965. He received his undergraduate degree from the Indian Institute of Technology, Madras in 1987. Guided by his affinity for physics, he then joined the Physics Department of Syracuse University as a graduate student. He studied fundamental particles and interactions at the CLEO collaboration at Cornell University during 1990-'92. After receiving his Ph.D in 1993, the author moved to Marseilles, France and continued his research with the ALEPH collaboration at CERN, Geneva. During his 10-year career as a research scientist in the field of high energy physics, he co-authored over 190 publications. Always inquisitive about the interplay between mind and matter, perception and philosophy and their implications in physics, the author joined the Kent Ridge Digital Labs (KRDL, later to be renamed I2R) in Singapore in 1998 to study and develop various human body-based measurements and systems. His work in this institute resulted in four invention disclosures, two of which have been filed for patent, and numerous academic papers. (Please see the CV for selected publications.) In the last two years, he has been involved in the NeuroInformatics group, focusing on Brain Machine Interface and neural signal acquisition and processing, which gave him the perfect opportunity to further understand and appreciate the role of perception in physics. The Unreal Universe is in part the outcome of the insights gained during the author's professional research career, in addition to his philosophical bend of mind.
More that you want to know about the author on his blog and his Amazon author page.
Other Links on the Author: CV and FaceBook page.